Flying cars may not be on the horizon just yet, but autonomous mowers are one future technology that's becoming a reality. "We placed our first GeoLink Solutions Autonomous Fairway mowers for field testing in 2022," says Greg Lawrence, senior director of global product marketing at Toro. "That gave us a lot of valuable insights, and we're continuing to fine-tune that technology based on what we learned."
The Old Collier Golf Club in Naples, Florida, is one of the sites that has been testing Toro's autonomous technology with promising results. Todd Draffen, the Club's director of agronomy, first heard about the opportunity from his local Toro distributor two years ago. "I think it's an innovative idea," he says. "And anytime you can be involved in testing and be on the forefront of new technology, that's exciting for me."
New Technology Turns Heads
When the two autonomous Toro® mowers arrived at the Club, Draffen says they were a novelty. One of the first times his crew used them, a caddy with a group of golfers noticed them right away. "He came running over and started asking about them. Same with our general manager and our golf pro — they were very intrigued."
It was also an adjustment for the crew, who kept their distance at first. "It was almost comical to watch. They weren't sure how or if they should approach the mowers," Draffen recalls. "But now they're used to what they do and how they do it, so it doesn't affect them."
The Club is testing the mowers on fairways, and one benefit they've noticed is the accuracy of the mow pattern. "The visual appearance is fantastic," Draffen says. "It does much better than any human can right now as far as straight lines and widths."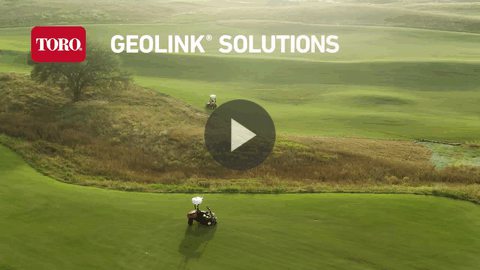 GeoLink Solutions Autonomous Fairway Mower Montage
Potential for Increased Productivity
During the testing phase, an operator still needs to monitor each machine — but Draffen is excited about the potential to enhance productivity in the future. "If we can find better, faster ways for our people to do their jobs, that will help our industry tremendously," he says.
Toro's autonomous technology aims to help courses make the most effective use of available labor, for example, by allowing more time for hands-on detail work that enhances value for players and club members. That's an important benefit as golf courses continue to face challenges with labor shortages and budget constraints.
Set Up for Safety
Safety is another important factor for many courses considering autonomous technology, and Draffen has been impressed with the way the Toro mowers have performed. "The precautions they've put in place are phenomenal," he says.
Part of the setup process includes mapping the property to set specific boundaries in which the machine can operate autonomously. When the mower reaches the edge of this predefined "work zone" based on satellite positioning, it stops. There are also several redundant systems in place to help ensure safe operation.
Field Insights Make the Difference
Product trials at sites like The Old Collier Golf Club are part of Toro's customer-centric approach to product development. "Toro was built on a foundation of listening to customers," Lawrence says. "From telling us about their challenges and unmet needs to testing prototypes in the field, we see our customers as true partners in the process."
As with any new product development, Toro continues to refine its autonomous technology based on customers' needs and feedback, and will release more information as it becomes available. "We're diligently testing the technology in a variety of conditions to ensure it meets our customers' expectations for performance and safety," adds Lawrence. "When we bring this technology to market, there's no other option than to get it right."