New Innovations Released at GCSAA Conference and Trade Show
Toro has a long history of innovations for golf course care and maintenance, and the latest products in the Toro® lineup were launched at the recent GCSAA Conference and Trade Show in San Diego:
GeoLink® Solutions™ Autonomous Fairway Mower
After investing more than 20 years of research and development, Toro is excited to put its
GeoLink Solutions Autonomous Fairway Mower to the test. Taking productivity to the next level, the new mower allows golf course superintendents the ability to increase productivity and get more consistent results.
The GeoLink Solutions Autonomous Fairway Mower is built on years of precision-control research and development, and it delivers the high cut quality the Toro name is known for. During an initial placement period in 2022, Toro will work with selected sites to test the GeoLink Solutions Autonomous Fairway Mower. The test units will be closely monitored to better understand the operational benefits realized by golf customers, and Toro will gain valuable insight as the technology is optimized.
ProCore® 648s Walking Aerator
Toro's ProCore® 648 Aerator has been the industry-leader — and an operator favorite — for years. Now, Toro is building upon the tremendous legacy of that popular model with the introduction of the new ProCore 648s.
Among the many innovative features is electronic drive control for more consistent hole spacing on slopes, higher speeds on turnarounds with a tighter turning radius, and more. A storage box and accessory LED light kit have also been added. Primary controls have been moved to the end of the steering handle for easy, single-hand operation. Toro's InfoCenter technology has also been added to the operator console for quick access to data and diagnostics.
The ProCore 648s also delivers a faster return to playing conditions thanks to Delayed Mode. During operation, it continuously monitors the position of the coring head in its rotational path and the speed at which the coring head drops to ensure max tine depth on the first entries into the soil. In most turf conditions, this eliminates the need to repair tufted turf. Learn More about the ProCore 648s.
Lynx® Upgrades
The Lynx® Central Control System is known for precise, efficient irrigation control, and now it's been enhanced with cloud-based tools that eliminate the need for a desktop device. Lynx Cloud allows superintendents to stay connected to the control system from anywhere at any time. Data can be reviewed on a mobile device, and adjustments to settings for stations or holes can be made directly through Lynx Cloud in real time. There's no need to make trips back and forth from a problem area to the maintenance shop.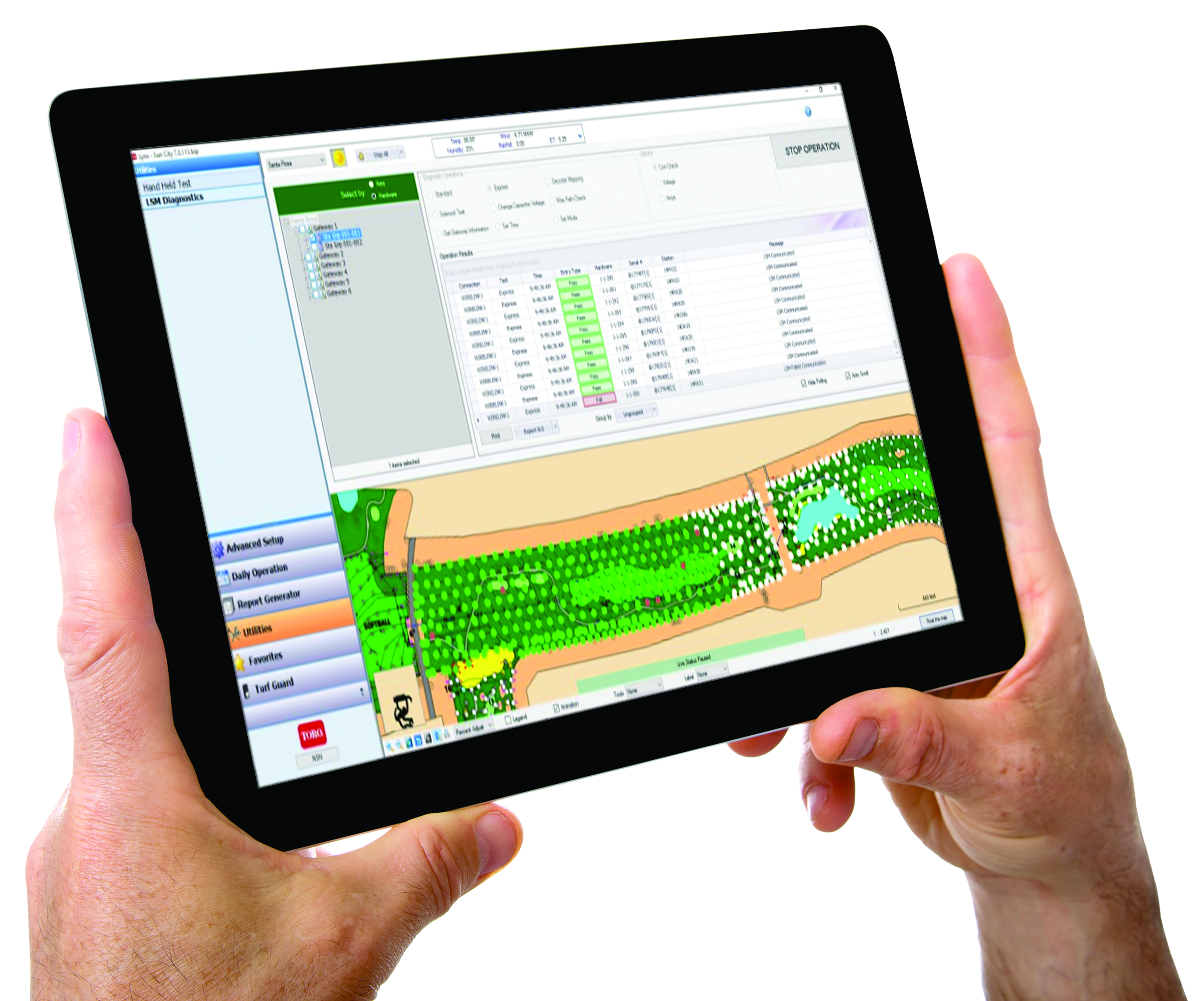 Another capability enhancement is Lynx Fusion. It allows a Lynx Smart Satellite system and a Lynx Smart Module 2-wire system be combined into one and operated from a single Lynx Central Control computer. Courses will now have the flexibility to phase in a new system rather than be forced to transition all at once.
Workman® UTX
From the course to the parking lot, the all-new line of Workman UTX utility vehicles is built for work, not recreation. Designed to provide fuel efficiency without sacrificing power, the durable, versatile and road-ready Workman UTX can handle job after job. Landscaping. Tree maintenance. Trash hauling. Snow and ice removal. Event setup and teardown. Transportation of people. The list goes on and on.
The Workman UTX is available with gas or diesel power and in configurations with room for two or four passengers. It also comes ready for snow removal with an integrated BOSS® plow mount and a corrosion-resistant, spray-in bed liner. An all-weather cab with heat and air conditioning is available to keep operators comfortable in any conditions. Learn More.
To learn more about the new products and the complete lineup of Toro course maintenance solutions, contact your local distributor.